Get access to full reports and analysis.
---
Q1 2021 just ended, and WWE still has about 10x the Google web search volume of any other pro wrestling brand.
But let's dig deeper into Google Trends.
First, an explanation of the data we're looking at:
We're measuring topics, not strings. In all cases here we're measuring search topics that Google Trends creates, not individual search strings, which would be less all-encompassing and probably less informative. For example, in the case of WWE, we're not measuring how often the string 'wwe' was searched for but rather we're measuring all searches Google Trends purports related to WWE, the wrestling company (or as GT identifies it, the "media company").
These are relative values, not absolute. The values you'll see below in the tables on the left are relative values. GT does not provide the absolute number of queries in any form; all its data is relative to the peak for the parameters you enter. I collected monthly data, which is the granularity that GT allows when you're collecting data beyond a span of five years. A 100 value in this case equals the month with the highest search volume. I've made the decision for comprehensibility sake (and because Q1 2021 just ended) to average months into quarters, so you won't actually see any instances of 100 below.

Below, a given value in one table is not equal to the same value in another table.

Because the values are relative and standardized against the peak volume for that topic, the values below are not comparable between wrestling companies. For example, below, a 50 for WWE is not equal to a 50 for AEW or any other company. You can put multiple topics on the same scale, but that's not what we're doing in this article other than in the above bar chart.
This data is volume adjusted. But hasn't Google search volume in general increased over time? How can we measure activity from 2004 on the same chart as 2021? The data is volume adjusted over time. It's a measurement of searches as a percentage of all search activity. For more info, read the Google Trends FAQ.
WWE
WWE's worldwide search volume declined again in Q1, for the seventeenth consecutive quarter.
If this was the stock market, we would say WWE's search volume has been in recession since Q2 2017. That period is roughly when ticket & merchandise sales, and Network subs began declining.
But what about WWE's domestic market? Maybe that's different.
In the U.S., WWE's search volume has been down 17 of 18 consecutive quarters. The exception was when volume was up 1% in Q2 2019.
AEW
All Elite Wrestling finally got a search topic in Trends this year.
Worldwide searches for AEW were up in Q1 by 4%. The U.S. trend is similar, up 7%.
Q2 2019 and Q4 2019 were big debut periods for AEW, when the company had its first pay-per-view and first Dynamite episode, respectively.
We're only now getting into a "steady state" time for AEW where these comparisons are becoming meaningful.
New Japan
New Japan is up 15% worldwide in Q1, which is probably skewed by the fact the company shut down for the pandemic at the end of February 2020. That'll be a factor through Q3 comparisons as New Japan didn't return to running events until July.
Queries in the U.S., though, are still falling. This was the ninth consecutive quarter of decline in U.S. volume, which notably began with the Q1 2019 launch of AEW, when former New Japan stars Kenny Omega and the Young Bucks signed with the new promotion.
But domestically for New Japan, searches remain strong. For Japan, Q1 2021 approached the quarterly high of Q1 2019.
Impact
Impact Wrestling search volume is a fraction of what it was in the early 2010s. But Impact has seen quarterly gains in three of the last four quarters. That lines up with the beginning of the pandemic, actually.
U.S. trends for Impact are comparable.
Stardom
The Japanese-based women's promotion Stardom continues to climb and outpace Ring of Honor and Dragongate in worldwide Google web search volume.
This is even with Stardom's May 2020 data point excluded as volume was exceptionally high coinciding with the passing of Hana Kimura.
Note the above chart uses a logarithmic scale. AEW, NJPW, Impact are in a separate stratosphere relative to the other companies shown (and WWE in a stratosphere above that).
Google web search is suggestive at best, and other important metrics like ticket sales are hard to take any meaning from in the pandemic era, but it's probably past time to start including Stardom in conversations when we consider, say, the fifth biggest pro-wrestling company in the world.
If you're wondering where U.S-based brands like Major League Wrestling and the National Wrestling Alliance fall in this comparison, Stardom is ahead of either by about 3x over the last twelve months, globally.
Stardom has grown in worldwide search for 20 consecutive quarters, since Q1 2017.
In Japan, volume for Stardom has doubled in many recent quarters, including Q1 2021.
In this U.S., though, the recently ended quarter put an end to twelve consecutive quarters of growth.
Ring of Honor
Ring of Honor searches appear to be at an all-time low. Could searches for ROH be lower now than in 2004? Google Trends also shows 13 consecutive quarters of decline, worldwide.
Searches for the Sinclair Broadcasting subsidiary peaked in 2015.
U.S. results for ROH are similar.
---
Brandon Thurston has written about wrestling business since 2015. He's also worked as an independent wrestler and trainer.
---
This article is available for everyone because of support from our subscribers.
SUBSCRIBE NOW
Support quality reporting on the wrestling business
---
---
This year and last year, the popular pro-wrestling focused subreddit r/SquaredCircle (also known as "Wreddit") distributed the "Wreddit Census" survey.
r/SquaredCircle boasts more than 500,000 subscribing members (almost three-times that of WWE's official subreddit).
EDIT: This article previously incorrectly stated that the WWE official subreddit is newer than SquaredCircle. It is not. WWE's subreddit was credited in October 2009; SquaredCircle was created in June 2011.
Wreddit posted a full look at the results for each year, linked here: 2019 and 2020.
You may also look at the datasets here: 2019 and 2020.
What do we know about the population and the sample we're looking at here?
In each survey, more than 8,000 responses were obtained from users worldwide.
I'll be focusing here only on the U.S. responses, which totaled more than 5,000 responses in each year. I'll focus on U.S. responses in the interest of consistency and due to my ongoing interest in studying wrestling television programming in the U.S. I also want to think about these results in the context of known U.S. television viewership data.
According to someone with access to analytics, on an average day on r/SquaredCircle this summer, about 160,000 unique users visited the platform. U.S. responses accounted for about 60% percent of total responses in each Wreddit Census 2019 and 2020. If that applies to traffic on the subreddit, that would mean about 96,000 users from the U.S. visit daily.
That would mean the roughly 5,000 U.S. responses would come out to a 5% sample of the population (96,000).
In terms of demographics, the sample is disproportionately white and male compared to wrestling television audiences in the U.S.
Linear television audiences however tend to skew older, by nature of the medium. People over age 50 consistently makeup the largest age segment of wrestling TV audiences, which is probably disproportionate relative to what we think of the general pro-wrestling consumer.
A consistent 96% of U.S. respondents in both 2019 and 2020 were between the ages of 18 and 49.
78% in 2019 and 71% in 2020 were between the ages of 18 and 34.
In this age makeup I suspect lies the greatest value of this study. As alluded to earlier, much of the data we have about wrestling audiences are data from linear TV viewership, which is disproportionately generated by older audiences.
In other words, while the demographics of the Wreddit census has its own issues with over- and under-representation, it may serve as a helpful supplement to a study of wrestling TV viewership relying mainly on Nielsen-sourced viewership data.
The data from the Wreddit Census, while itself skewed in terms of demographics and possibly fan type (i.e., Does the sample over-amplify a "vocal minority" of the fan market?), might tell us information to balance against the also skewed television data.
In light of that, the Wreddit Census data might to an extent be a bellwether for some trends in the wrestling industry.
Additional demographic charts on the Wreddit Census are appended to the end of this article.
What did you do to the data to look at the subject of wrestling program engagement?
These graphs selectively group together some responses. Depending on the program, respondents were asked whether they watched live, watched through some form of on-demand viewing, or if they watched occasionally or regularly.
The possible "Yes" responses may have included:
Yes. I regularly watch it every week as it airs
Yes. I occasionally watch them as they air, but sometimes I watch them later
Yes. but I watch them later, not as they are airing.
Respondents were also offered two possible "No" responses:
"No. I don't watch or follow [program]"
"No. I don't watch [program] regularly, but I do try to keep up with news and storylines.
Fortunately, questions and possible answers related to popular wrestling programs were phrased in almost identical terms in both years.
So how did engagement with popular wrestling programs change from 2019 to 2020?
Wreddit Census demographics (U.S. respondents only)
2019 demographics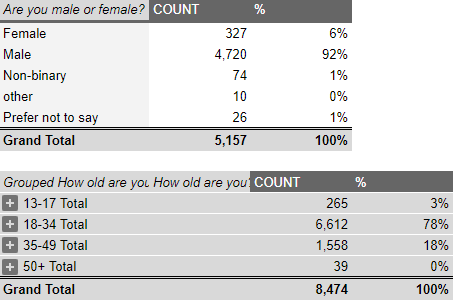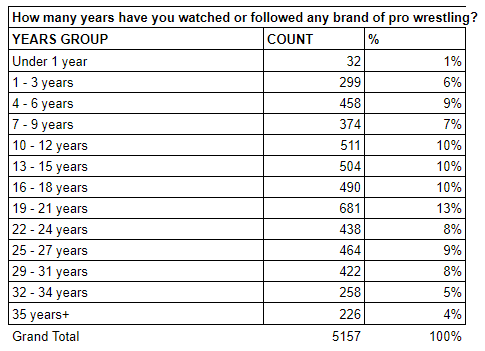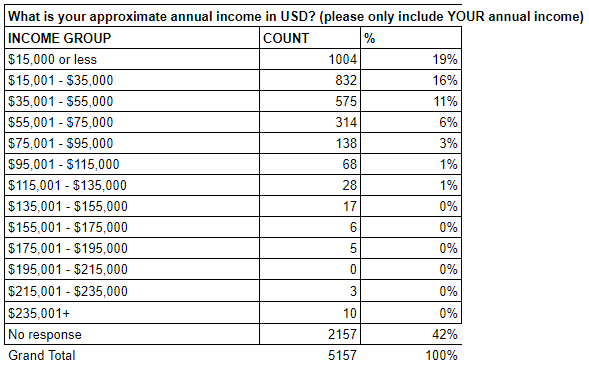 2020 demographics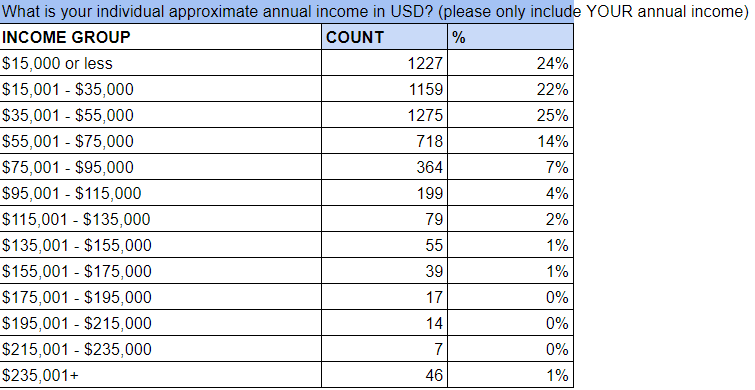 Country demographics: 2019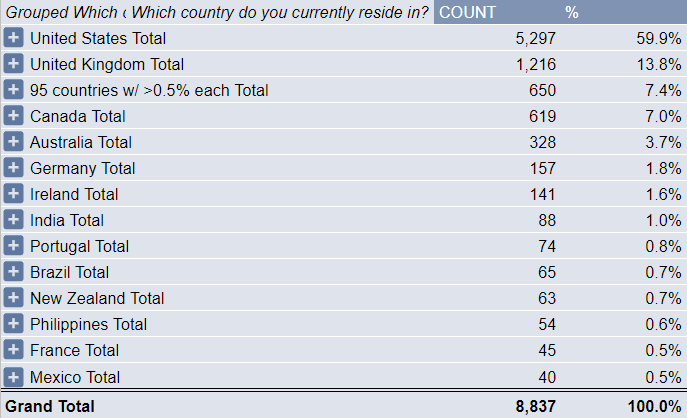 Country demographics: 2020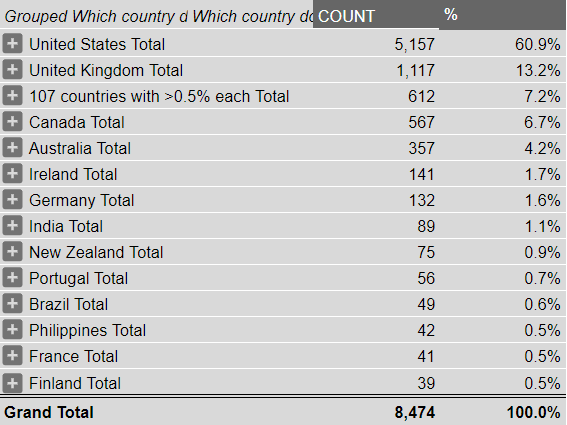 ---
Never miss a post. Sign up below to get new Wrestlenomics blog posts sent automatically to your email as soon as they're posted.