The metrics we've followed throughout the last few decades of wrestling television history have changed. In the "Monday Night War" era, amid the competition ultimately won by WWF Raw over WCW Nitro, reports dwelled on TV ratings: a number with one or two decimal places. Those numbers measured a program's total audience.
But around the end of the WWF vs. WCW competition in 2001, the television advertising business changed.
[T]he weight placed on absolute household eyeballs during the 1980s and 1990s has given way to a more narrowly defined, demographic-oriented focus. Networks now try to convince advertisers that they're reaching viewers that can draw premium CPMs (costs per thousand), and no demographic is more desirable than 18-to-49-year-old adults.

Multichannel.com, 2/24/2002
In recent years Showbuzzdaily.com has become a reliant source for wrestling news aggregators and more influential sources like the Wrestling Observer Newsletter. Showbuzzdaily, launched in 2014, reports cable and broadcast viewership data tables most afternoons for the programming that aired the night before. It's the longest-running active and most consistent public source of TV viewership data I'm aware of. But Showbuzzdaily doesn't report an overall TV rating of the kind that were so honed in on by WWF and WCW observers from 1995 to 2001.
By the way, what is a TV rating? All TV ratings (including the demo ratings we see today from SBD) are essentially percentages. The denominator — what the rating is actually a percentage of — may vary. In other words, there are different kinds of ratings, depending on the denominator being used.
A national rating is essentially a percentage of the national population that's viewing.
A coverage rating is a percentage of the population viewing who has access to the program's channel.
A household rating is a percentage of the households viewing.
What does Showbuzzdaily.com report?
Even after trying to reconcile them against Census Bureau data on the U.S. population by age, I honestly don't know what kind of ratings are being represented in the demographics data Showbuzzdaily reports. If they are national ratings, Showbuzzdaily's report that, for example AEW Dynamite did a 0.28 in the coveted P18-49 demo, means that 0.28% of people in the U.S. between the ages of 18 and 49 were watching Dynamite.
Most of the data published in Showbuzzdaily tables are demographic ratings. However in the rightmost column (seen above in Tony Khan's tweet), SBD reports a metric we sometimes call "total viewership" or "total audience" or "P2+". That number isn't a rating, but rather the total number of people watching who are age 2 or older. SBD lists the number in thousands (with the last three zeroes cut off).
Wrestling companies, likely via their broadcast partners, get U.S. viewership reports generated directly from Nielsen data. At least some of this data, broken down by demographics, is reported in the form of viewers, not ratings. In other words, wrestling media aggregators and readers who rely on Showbuzzdaily are largely looking at ratings; those inside wrestling companies may be largely looking at viewers. Nonetheless, both parties are looking at similar demographic breakdowns that correlate strongly. For example:
With a new head-to-head competition for wrestling viewership underway since October 2019 between WWE NXT and AEW Dynamite, many have emphasized that P18-49 viewership is more important than that of the total audience, which is particularly true for attracting advertisers to the programs' networks.
This distinction has caused debate because, paradoxically, some weeks — including the last two — AEW lead in the demo (P18-49) while NXT lead in total audience (P2+).
It seems the importance of the P18-49 demographic above the total audience is particularly important to AEW's broadcaster TNT and the network's parent company WarnerMedia.
It's not clear WWE NXT and Raw broadcaster USA Network takes the same approach with advertisers and thus values the P18-49 to the degree TNT does. Some USA Network press releases celebrate both P18-49 and P25-54 performance, although it's not like NXT is beating AEW in the latter demographic either.
Outside of advertiser-supported media business, the wrestling business is still partly a consumer business as well. It stands to reason any age consumer could buy (or compel parents to buy) a pay-per-view or streaming subscription, merchandise, licensed products, or — in a time not marred by a pandemic — event tickets.
Total audience and P18-49 viewership for WWE Raw however have declined worse than some wider TV trends for years. Smackdown has been a different story as it moved across networks and time-slots.
WWE Raw and Smackdown quarterly & annual trends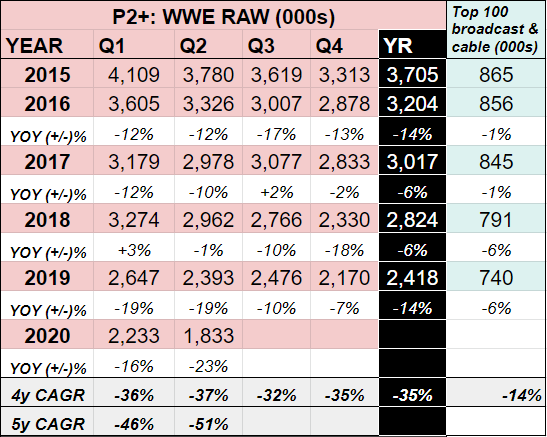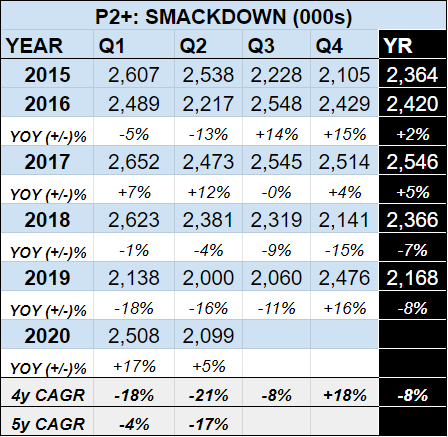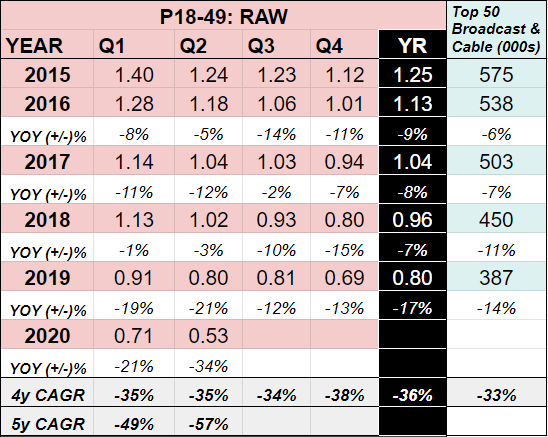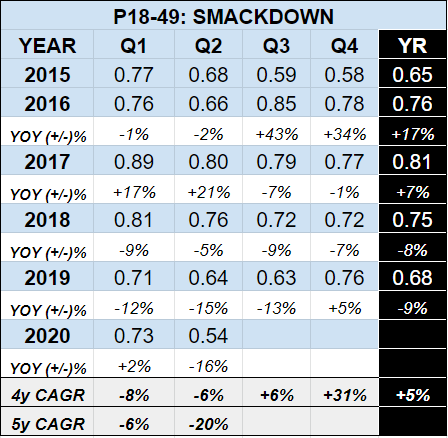 Note (3) above compares Raw P18-49 rating to Top 50 broadcast & cable P18-49 viewers. This isn't an ideal comparison, but it's the best data I've been able to find. Such an imperfect comparison, however, if anything, should favor Raw in a TV universe with declining traditional cable or satellite access.
For several years WWE has published similar comparisons. WWE matches up national TV ratings for Raw and Smackdown against that of an average of the top 25 cable networks in the Key Performance Indicators PDF posted on WWE's corporate website. From 2016 to 2019, all of which are archived by Wrestlenomics, this was shown in the form of national TV ratings. These tables below derive their data from those KPI documents.
That said, two important takeaways sometimes misunderstood:
This tells us about WWE's linear TV consumption — and maybe the company's popularity, or maybe we should call it, "brand strength".
This data alone doesn't necessarily tell us much about WWE's TV rights value, indeed it may mislead us.
How could WWE get an increase in TV rights fees when its viewership trends are declining?
During the timeline the above tables cover and in the market this data pertains to (the U.S.) WWE negotiated an upgrade to its TV rights fees for Raw and Smackdown. In spring 2018, WWE finalized a 3.6x increase in U.S. TV rights fees for Raw & Smackdown when WWE completed separate deals with NBCU and Fox.
[T]he new [Smackdown] deal is worth $205 million annually, and $1.025 billion over the life of the pact… Also on Tuesday, NBC announced that is has closed a new five-year pact to keep the Monday night showcase Raw on USA Network. Sources previously told THR that deal is worth $265 million annually.

The Hollywood Reporter, 6/26/2018
Part of the reason for this is because, despite declining TV audiences in the key demo and overall, Raw and Smackdown were still highly ranked versus other original programs airing on cable on the same night.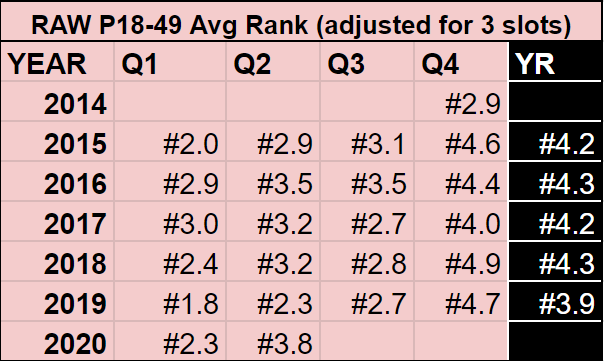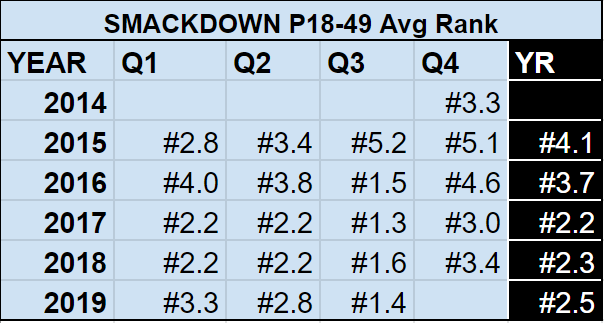 Consider too Raw is still by far USA Network's leading show in both key demo and total audience. Smackdown when it was on USA was right there with it. NXT viewership is more in line with a normal USA scripted original.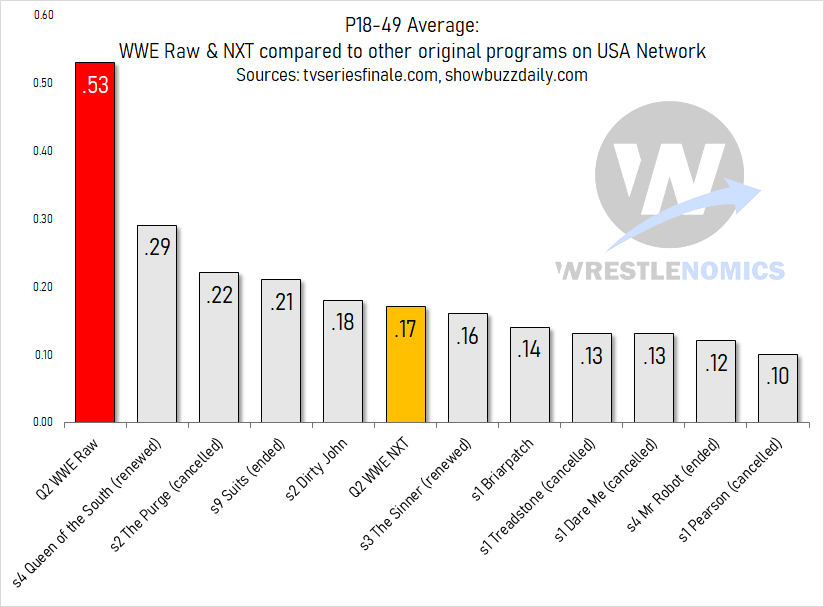 Smackdown moved from cable to network when it moved to Fox in October. Even this past Friday night: while Smackdown was watched by less than two million viewers, it led in P18-49 among primetime broadcast TV. Dateline NBC equaled Smackdown in the demo, only after Smackdown went off the air, 10-11.
Nonetheless these two things can be simultaneously true:
The quality of WWE programming is turning people off. No excuses. There aren't sufficient external or cyclical factors to fully explain away the various declines in multiple areas for WWE.
Linear TV Raw & Smackdown audiences are still big enough for WWE to benefit from exploding live TV value in an environment with fewer large, live audiences.
Linear TV is a real-time television service that broadcasts scheduled programs, conventionally over the air or through satellite/cable, not streamed to a specific user. Nearly, all broadcast television services count as linear TV.

Muvi.com
Economic justice
This is frustrating for many wrestling fans. There's not just anecdotal, but some survey data (to be shared in coming months) to show there's at least a niche of fans increasingly disengaged with main roster programming in particular, a phenomenon less present a few years ago.
There are falling consumer trends to back that up as well, which are tied to revenue, and predate COVID.
WWE has enormous guaranteed revenue sources, largely in the form of multi-year contracts for Raw & Smackdown TV rights fees in the U.S. ($470 million, average annual value) and in many international markets like India ($50 million) and the U.K (~$15-30 million); plus $100 million annually for events in Saudi Arabia.
None of that money, as far as we know, is tied to viewership metrics or any measurement of engagement or popularity.
Decades ago WWE was primarily a ticket-selling business. In a sense, the company has never been less incentivized to grow its audience, much less appease it.
The U.S. TV deal is good through Q3 2024; the India deal, a quarter or two beyond that; the Saudi deal, through 2027. And (I remember saying this before the current round of deals were made) there's no sign yet those deals won't be renewed at equal or higher value when the margin between Raw and Smackdown live viewership and that of the rest of TV is so wide.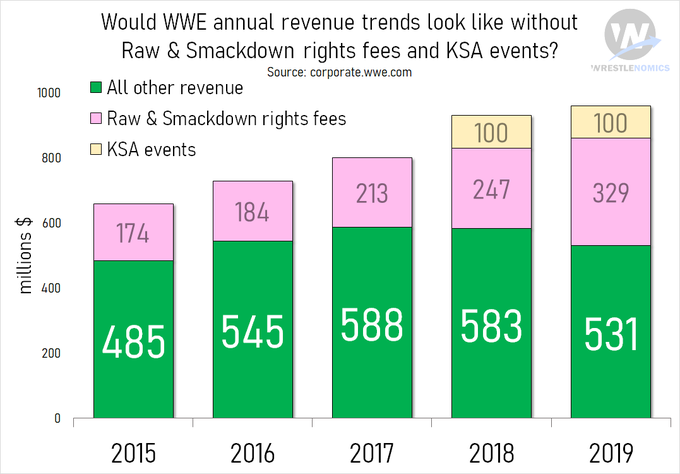 In wrestling, in a worked business, the economics are the only real scoreboard. Some fans want economic justice for what they perceive as the terrible content WWE has been putting out for years. But the old single scoreboard is bifurcating into two.
WWE is losing on the popularity scoreboard, but winning big on the financial scoreboard. The company could be winning on both, thereby winning even bigger on the latter. But ego (i.e., justifying the creative intuitions of the CEO) overrides even finances in this case.
Neither do any other economic forces — stock analysts, major institutional investors, business media — much distinguish the difference between good wrestling and bad; they mainly distinguish the difference between profit and loss.
And the coming years will be a more profitable time for WWE than even its highest peaks in popularity, coronavirus or not.
The longer WWE goes without repairing its resentful relationship with its consumer base — to which there is no end in sight — the greater opportunity there will be for others in the wrestling marketplace to serve the unserved base. That's been the story of the wrestling industry for the last few years.
Another possibility too — and something that might be underway — is that the descent of WWE, which has for so long been so far ahead as the industry leader, may simply contribute to a decline in the popularity of not just its brand but of pro-wrestling in general.