The rise of John Cena in 2005 was the last time WWE made a star whose value strongly drove consumer metrics. Despite branding all of its talent "superstars", it was the last time the company created a major star, or strong — what the media industry might call — intellectual property. I'm thinking about the likes of the rise of Hulk Hogan beginning in 1984, Steve Austin in 1998, The Rock in 1999. To be fair, Cena's star didn't burn as brightly as the aforementioned, but he outmatches them for longevity as a full-time top attraction for WWE.
The self-described integrated media company has struggled to cultivate a star of comparable value for the last 15 years. In that time, some notable players have come along — Roman Reigns, CM Punk, Daniel Bryan, Braun Strowman, Becky Lynch — each with a complicated development, and none reaching the level of WWE's era-defining successes.
This would be sort of like if Disney's last big hit was Cars: a franchise — like Cena — polarizing among some fans, highly merchandised, repeatedly spun off, and having its last big iteration around 2017 (about the time Cena stopped working for WWE full-time and more fully pursued an acting career).
To compensate, Vince McMahon has increasingly relied on guest appearances (like The Rock), "reunion" TV specials (like "Raw 25"), and short-term runs from aging legends (like Goldberg). The CEO and head of creative leans on nostalgia to momentarily excite interest (like, most recently, bringing Vince's 50-year-old son Shane back to TV to introduce a new concept).
But in more general terms, too, there's evidence that there's a lack of new, more youthful star power in WWE. The median age of the top 10 and 25 most-searched for WWE personalities (using having at least 1 WWE match in a given year as a criterion), has gradually increased since 2004, peaking this year.
Perhaps WWE has less control over which personalities are searched for, though. What the company certainly controls is who its champions are, thanks to the nature of pro-wrestling. Yet WWE's top men's champions have increased in age over the same timeline.
Does this really matter though? WWE is more profitable than ever.
Short-term, maybe not. Long-term, it does matter.
While revenues from business partnerships are growing impressively, most consumer metrics are in multi-year declines, which was the case before COVID.
Total attendance and average attendances are down since 2017. Likewise for merchandise and licensed product sales. Google searches for WWE topics have declined worldwide and in the U.S. each year since 2016. YouTube is the exception — a relatively small revenue area, estimated to be worth around $20 million annually to a company generating nearly $1 billion per year.
WWE Network content will need to be sold to a major streaming player to further monetize peak monthly events, as paid subscriptions stopped growing year-over-year in 2018.
It's not clear where future growth areas are for WWE, if not in its consumer metrics, which historically have always been driven by the emergence of new top stars.
Over the last few years especially, there have been numerous excuses provided for why viewership and other metrics have weakened. Despite some talent being out injured and subsequently returning, despite promises of new writing team members, despite the creation of executive director positions for flagship programs Raw and Smackdown, despite firing both executive directors and consolidating the position — what's remained constant is Vince McMahon as head of creative, which has been the case for decades.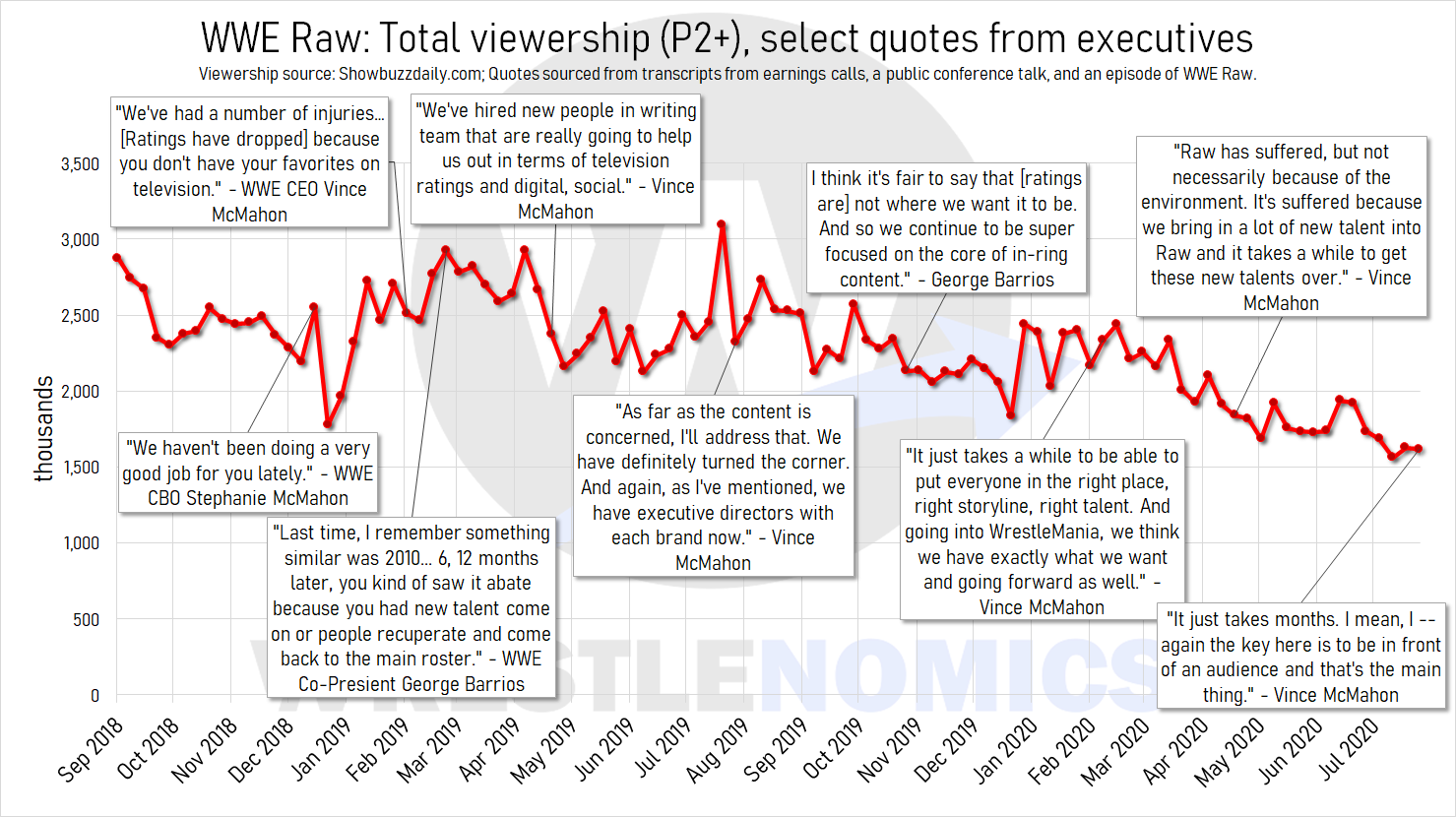 The only area of WWE that's overachieved creatively in the last several years has been the NXT brand: the only area of WWE in-ring content that McMahon completely delegates. Under creative direction of Vince's son-in-law EVP Paul Levesque, the brand was expected to be little more than a weekly TV program for the WWE Network, to run small house shows at a loss, develop talent for main roster brands Raw and Smackdown, and give Levesque experience so that he might take over some of McMahon's creative responsibilities in the future. The brand was never supposed to turn into a unit that tours mid-sized venues, sells out major arenas for peak events, and now has its own two-hour time-slot every week live on USA Network with the hope of earning large rights fees someday.
Still, there's only so much NXT can do on its own. Until its move to USA Network, the brand had limited reach. Even now, it's still positioned as a feeder brand to Raw and Smackdown. Further, it's been strategically placed as head-to-head competition on Wednesday nights on cable, to mitigate the performance of new competitor All Elite Wrestling.
[I]f you wanted to say, 'feeder system', [NXT] is that, but it also has become its own third brand.

WWE EVP Paul Levesque at the company's annual shareholders' meeting, 7/16/2020
Meanwhile WWE's most recognizable intellectual property is aging and increasingly absent from regular appearances on televised programming and pre-COVID non-televised live event tours.
Marketing materials often leverage talent/IP whose heyday was a generation ago, or longer.
A recent promotion of a WWE tie-in with the World of Tanks game features Sgt. Slaughter, Becky Lynch, Steve Austin, and the Undertaker. 3 of the 4 are over age 55. 2 of them (Austin and Slaughter) haven't had a WWE match within the last seven years. None have had a match on WWE TV since April.
For another example, let's take the cover image for the company's newest licensed console game, WWE 2K Battlegrounds, which is set to release in September.
At the forefront are Steve Austin and The Rock, known for their legendary rivalry from 1999 to 2003. Over Austin's right shoulder is full-timer Charlotte Flair and former MMA fighter Ronda Rousey; the latter hasn't appeared on WWE programming since 2019 and it's unknown when or if she'll return. Across the ring is Bray Wyatt, a full-timer, facing off with 55-year-old guest star Undertaker. Would-be full-timer Roman Reigns battles former full-timer John Cena. Behind them is full-timer Asuka. In the back corner are two deceased legends, Yokozuna (who last wrestled for WWE in 1996) and Andre the Giant (who passed in 1993). In their direction, throwing a dropkick, is full-timer Kofi Kingston.
If you turn on Raw or Smackdown these days, you're only likely to see 4 of the 12: Charlotte, Bray Wyatt, Asuka, and Kofi Kingston.
On the other hand, the above examples are licensed products. Surely many video games and other products successfully use intellectual properties that are decades old. And these games might sell quite well in their own right.
Let's look at how the core content is promoted then.
Consider the commercial to promote the debut of WWE Smackdown on Fox last fall.
The WWE talent appearing on-screen in the commercial?
Steve Austin: age 55, has not wrestled anywhere since 2003.
John Cena: 43, rare TV appearances, stopped being a full-time performer in 2015 .
Becky Lynch: 33, full-timer until her pregnancy announcement in May.
Kofi Kingston: 38, full-timer.
Charlotte Flair: 34, full-timer.
Undertaker: 55, rare TV appearances, last had more than 5 matches in a year in 2010.
The Rock (Dwayne Johnson): 48, rare TV appearances, his last 7 matches were all between the years 2004 and 2016.
Daniel Bryan: 39, full-timer.
Ric Flair: 71, appears occasionally, last WWE match was in 2008.
Seth Rollins: 34, full-timer.
Randy Orton: 40, full-timer with more limited schedule than others.
Roman Reigns: 35, full-timer, hasn't appeared since March due to COVID-19 concerns.
In the case of the Smackdown commercial, maybe half of the personalities highlighted are likely to appear on WWE TV on a random week this month.
At least in the case of the mobile and console games, all the IP represent playable characters.