On the latest edition of Wrestlenomics Radio, hosts Brandon Thurston and Chris Gullo discussed WWE's return to live events. WWE will return to touring in a 25-city tour starting on July 16 through Labor Day.
WWE has officially announced three live events in Texas to kick off the tour. Tickets will be on sale on May 26.
As Gullo was speculating on other places WWE could tour at like Philadelphia and Arizona, Thurston brought up the "lucrative cities" of Jeddah and Riyadh in Saudi Arabia.
"I think the big question now is and I don't know if that's included in this," Thurston said. "This is only through Labor Day, and that's through early September, so there would still be a number of months in the year before then. But I wonder if, maybe not one Saudi Arabia event, for the government of Saudi Arabia, but maybe they could get two in.
"Now, what will have a great deal to do with it is whether or not Saudi Arabia is going to allow people into the country, particularly from the United States."
Saudis vaccinated against Covid-19 were recently allowed to travel outside the country for the first time in 14 months, according to the Associated Press. With limited exceptions, people from 20 countries, including the United States remain banned from entering Saudi Arabia.
"I think that's something to monitor, especially if you're trying to make sense of WWE's financials for the rest of the year and trying to predict what's going to happen. $55 million every time they go there. WWE has to disclose the amount of revenue that they get from their customers who contribute at least or more than 10% of their total revenue, and in the past that has apparently, they don't explain who these customers are, but they quantify the amount of money.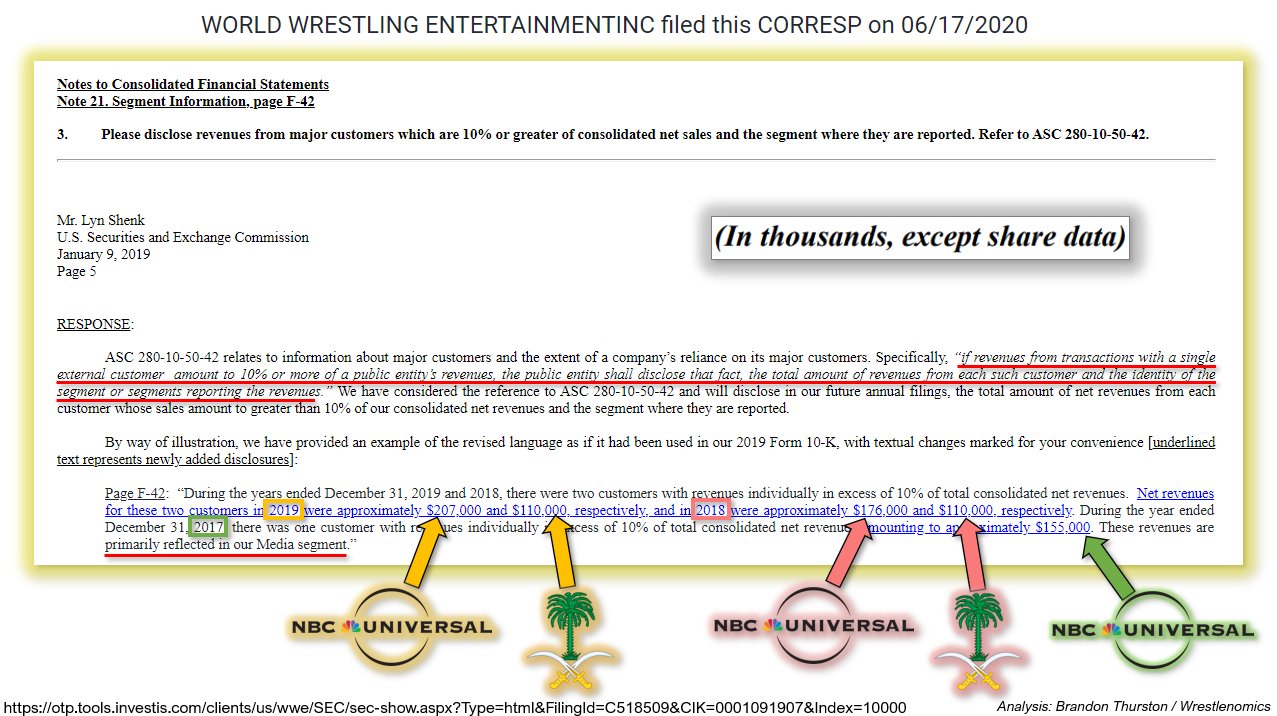 "There was in 2018 and '19, a customer contributing $110 million in each of those years. Split that in half, it's $55 million. It's got to be the General Sports Authority, a branch of the Saudi government, so that will mean a lot to their financial picture, to the profitability [and] to the revenues if they're able to generate an extra $50, or even $100 or $110 million before the year is over. So that's the big thing that's going to affect the EPS that the analysts will make estimates on, and that's something I'll be watching."
---
Jason Ounpraseuth has covered pro wrestling since 2019. He co-hosts the Gentlemen's Wrestling Podcast.
Brandon Thurston has written about wrestling business since 2015. He's also an independent pro wrestler and trainer. For more, see our About page.
---
Become a Patron!